A Message from the Director
Thank you for taking the time to visit our website!

On July 18, 2016 Companion Linc brought services to Minnesota, this served as the beginning of two years of reshaping and refining services to all those supported by Companion Linc.

As Minnesota operations grew and evolved, Nebraska operations were presented an opportunity to provide services under Mosaic, a company whose values and vision mirror those of Companion Linc's founder Kim Boyce. For more information on Mosaic and the services they are providing in Nebraska, please click on the Lincoln or Companion Services tabs.

In the time since services began in Minnesota, we have put our own spin onto the "Companion Linc" way. We see ourselves as facilitators and we put the individual at the center of everything we do. With the individual taking the lead; we partner with their teams and their communities to assist people to secure and maintain jobs, become members of groups that interest them, and increase their skills for independent living. We also provide staff that assist people remain in their home – providing Respite, Companion and Homemaker Services to individuals throughout the metro area.

When asked to summarize the services that we provide, we often laugh. Services look different for every person that we support – because everyone is unique and has a different goal for their time. On any given day our staff may be found; job coaching at a retail chain, hanging out in gaming stores talking with other gamers, attending a local dance, volunteering at a local food shelf, shopping at the grocery store, on the sidelines assisting a soccer coach, meeting employers at a job fair, making crafts in the office, meeting a group for lunch, hanging out at a home serving as an assistant to the "chef", or many other possibilities. The list is extensive and continues to grow!

Our services are built around each individual that we support, with a focus on hiring staff that have similar interests to the individuals that they support. Individuals and their families often participate in interviews with potential staff, bringing a stronger connection and increased longevity in many cases.

We are excited to use this website to share our mission, vision and values. We especially hope to hear from you to create partnerships to benefit those we support!

Stephanie Mox
Mission, Vision and Values
---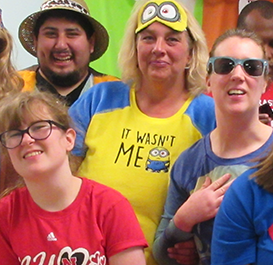 ---
Mission
---
To provide a genuine human service to individuals with intellectual/developmental disabilities with natural supports in natural settings.
---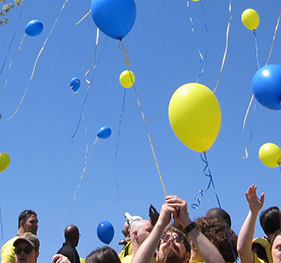 ---
Vision
---
Companion Linc envisions a world where people of all abilities are free of stigma and discrimination to become the people they desire to become and are supported with a system of services that are self-chosen, and self-directed.
---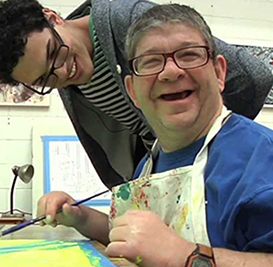 ---
Values
---
All people have intrinsic value. All people should have a place to live and work of their choosing. All people should have the opportunity to share their life with those they choose. All people should have autonomy of choice about his/her life. All people should be treated with dignity. All people should have advocates who support them.
Inspiring Possibilities in Action
Companion Linc is committed to "Inspiring Possibilities" by challenging itself to develop new and innovative service types that put its mission in action. From the individual crisis intervention approaches, to its service models, to the "matching process" of staff with companions, Companion Linc challenges itself to create new possibilities that will drive the service system forward.
Our Philosophy
---
Person centered services are not just an idea at Companion Linc, but the basis of everything that we do. Companion Linc was founded in Nebraska in 2011 with a goal of providing individualized services that are based in the community, restraint free, and focused upon building natural supports. With two locations in Nebraska, Lincoln and Omaha, Companion Linc has become a Social Services leader in the state. Companion Linc expanded these services to Minnesota in 2016, creating an opportunity to expand the reach of service that have enriched the lives of people served.
Companion Linc is always seeking compassionate and competent people to join our team. If you are a person who is dedicated to making a positive difference in people's lives, we would love to hear from you!
Apply Here!